News
We

are now members of the National Federation of Demolition Contractors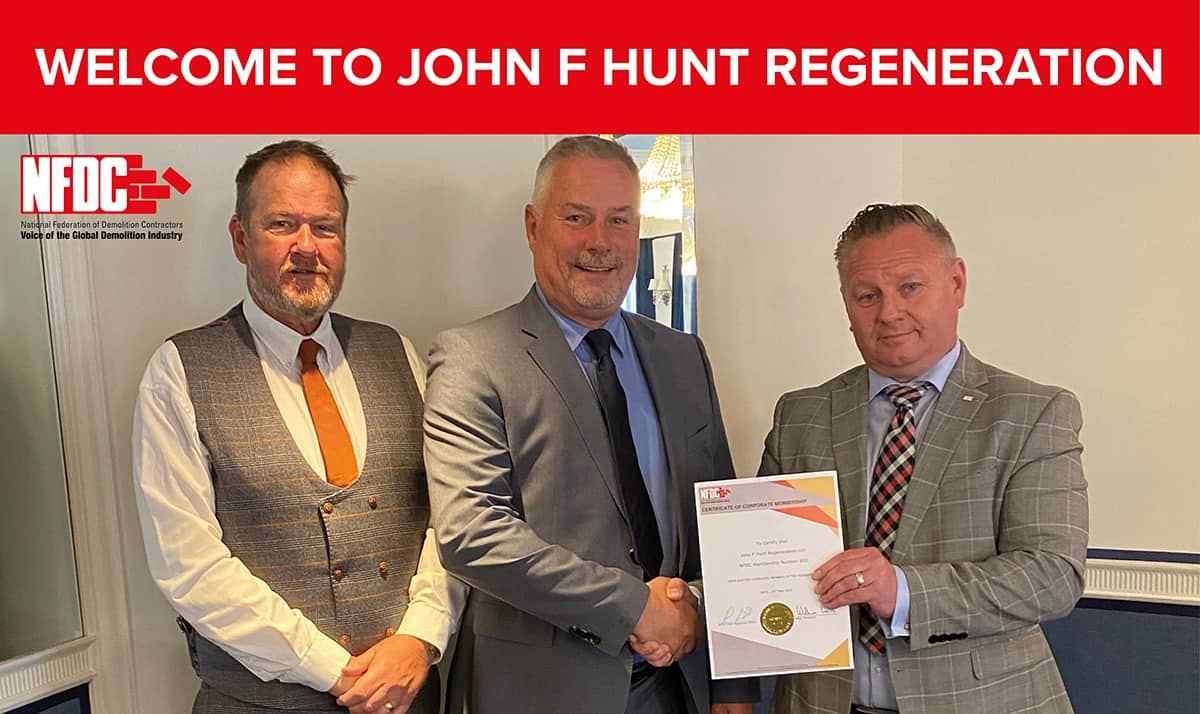 NFDC London & Southern Counties Chairman Duncan Rudall FIDE TechIOSH MInstLM MIQ AIEMA officially welcomed us into the National Federation of Demolition Contractors fold during July's regional meeting. 
Here is Neil Swinburne and Steve Forster collecting their membership certificate from Duncan Rudall.
"𝘛𝘩𝘦 𝘕𝘢𝘵𝘪𝘰𝘯𝘢𝘭 𝘍𝘦𝘥𝘦𝘳𝘢𝘵𝘪𝘰𝘯 𝘰𝘧 𝘋𝘦𝘮𝘰𝘭𝘪𝘵𝘪𝘰𝘯 𝘊𝘰𝘯𝘵𝘳𝘢𝘤𝘵𝘰𝘳𝘴 𝘪𝘴 𝘵𝘩𝘦 𝘰𝘯𝘭𝘺 𝘜𝘒 𝘧𝘦𝘥𝘦𝘳𝘢𝘵𝘪𝘰𝘯 𝘪𝘯 𝘵𝘩𝘦 𝘥𝘦𝘮𝘰𝘭𝘪𝘵𝘪𝘰𝘯 𝘪𝘯𝘥𝘶𝘴𝘵𝘳𝘺, 𝘢𝘯𝘥 𝘤𝘰𝘶𝘯𝘵𝘴 𝘴𝘰𝘮𝘦 𝘰𝘧 𝘵𝘩𝘦 𝘣𝘪𝘨𝘨𝘦𝘴𝘵 𝘯𝘢𝘮𝘦𝘴 𝘪𝘯 𝘥𝘦𝘮𝘰𝘭𝘪𝘵𝘪𝘰𝘯 𝘢𝘮𝘰𝘯𝘨𝘴𝘵 𝘪𝘵𝘴 𝘮𝘦𝘮𝘣𝘦𝘳𝘴𝘩𝘪𝘱. 
𝘛𝘩𝘦 𝘮𝘰𝘴𝘵 𝘱𝘰𝘸𝘦𝘳𝘧𝘶𝘭 𝘷𝘰𝘪𝘤𝘦 𝘪𝘯 𝘵𝘩𝘦 𝘥𝘦𝘮𝘰𝘭𝘪𝘵𝘪𝘰𝘯 𝘪𝘯𝘥𝘶𝘴𝘵𝘳𝘺, 𝘵𝘩𝘦 𝘕𝘍𝘋𝘊 𝘩𝘢𝘴 𝘤𝘩𝘢𝘮𝘱𝘪𝘰𝘯𝘦𝘥 𝘵𝘩𝘦 𝘴𝘵𝘢𝘯𝘥𝘢𝘳𝘥𝘴 𝘢𝘯𝘥 𝘱𝘳𝘰𝘧𝘦𝘴𝘴𝘪𝘰𝘯𝘢𝘭𝘪𝘴𝘮 𝘰𝘧 𝘪𝘵𝘴 𝘮𝘦𝘮𝘣𝘦𝘳𝘴 𝘧𝘰𝘳 𝘮𝘰𝘳𝘦 𝘵𝘩𝘢𝘯 75 𝘺𝘦𝘢𝘳𝘴.
𝘉𝘢𝘤𝘬𝘦𝘥 𝘶𝘱 𝘸𝘪𝘵𝘩 𝘳𝘦𝘨𝘶𝘭𝘢𝘳 𝘮𝘦𝘮𝘣𝘦𝘳 𝘴𝘪𝘵𝘦 𝘢𝘶𝘥𝘪𝘵𝘴 𝘢𝘯𝘥 𝘢𝘱𝘱𝘳𝘰𝘱𝘳𝘪𝘢𝘵𝘦 𝘵𝘳𝘢𝘪𝘯𝘪𝘯𝘨 𝘧𝘳𝘰𝘮 𝘵𝘩𝘦 𝘕𝘍𝘋𝘊'𝘴 𝘱𝘢𝘳𝘵𝘯𝘦𝘳𝘦𝘥 𝘱𝘳𝘰𝘷𝘪𝘥𝘦𝘳, 𝘵𝘩𝘦 𝘕𝘋𝘛𝘎, 𝘦𝘯𝘴𝘶𝘳𝘦𝘴 𝘵𝘩𝘢𝘵 𝘦𝘹𝘱𝘦𝘳𝘵𝘪𝘴𝘦 𝘪𝘴 𝘮𝘢𝘪𝘯𝘵𝘢𝘪𝘯𝘦𝘥 𝘢𝘯𝘥 𝘳𝘦𝘪𝘯𝘧𝘰𝘳𝘤𝘦𝘥.
𝘕𝘍𝘋𝘊'𝘴 𝘢𝘥𝘥𝘦𝘥 𝘷𝘢𝘭𝘶𝘦 𝘭𝘪𝘦𝘴 𝘪𝘯 𝘵𝘩𝘦 𝘱𝘦𝘢𝘤𝘦 𝘰𝘧 𝘮𝘪𝘯𝘥 𝘢𝘯𝘥 𝘳𝘦𝘥𝘶𝘤𝘦𝘥 𝘳𝘪𝘴𝘬 𝘪𝘵 𝘱𝘳𝘰𝘷𝘪𝘥𝘦𝘴 𝘵𝘰 𝘢𝘯𝘺𝘰𝘯𝘦 𝘱𝘭𝘢𝘯𝘯𝘪𝘯𝘨 𝘰𝘳 𝘤𝘰𝘮𝘮𝘪𝘴𝘴𝘪𝘰𝘯𝘪𝘯𝘨 𝘢 𝘥𝘦𝘮𝘰𝘭𝘪𝘵𝘪𝘰𝘯 𝘱𝘳𝘰𝘫𝘦𝘤𝘵."
 
We are very pleased to have been accepted as members of the NFDC